Board Member Elections
Bridgewood Association, Inc. will be holding an election for Two (2) Board of Director positions. The election will be held on November 8, 2023. If you are interested in serving on the Bridgewood Board of Directors, please complete the
2023 Candidate Profile Form
and submit it. Your form can be emailed to bridgewo@ciramail.com. You may also mail or drop the form off to the onsite office at 11102 Liberty Field. Your form must be received by email or the onsite office no later than 5:00pm on Friday, September 29, 2023 to have your name on the ballot that is included in the Annual Meeting Notice. More details will be emailed and mailed to owners for this meeting.
Back to School Bash
Join us for the Back to School Bash this Saturday 8/26/23 at the Bridgewood Community Pool! The event will be held from 11 am – 3 pm. There will be BBQ Plates available for purchase, FREE Kona Ice, FREE snacks and drinks, a live DJ, Games, Prizes, and Giveaways. Click on the flyer for more info.
Sincerely,
The Bridgewood Board of Directors
Lots of FUN was had by all who attended.  We hope to see you all again and more of our community at our next event (FALL FEST).  Remember it is you that makes Bridgewood what it is.
Easter Egg Hunt 2023
When: April 8, 2023, at 2 PM
Where: Vollmer Park 10925 Vollmer Ln, San Antonio, TX 78254
What: Join your neighbors and community for a free Easter Egg Hunt. Kids of all ages are welcome. Keep your eyes peeled as we may have a visit from the Easter Bunny too.
Bulk Trash Drop Off
Saturday, November 12th, 2022 from 9 am to 1 pm!
We will have multiple dumpsters available for your bulk trash at the Liberty Field pool parking lot.
Drop-off will begin at 9:00 am and will end at 1:00 pm or when the dumpsters are full, so please try and come early.
We have attached a Bridgewood Bulk Trash Drop Off – November, 12, 2022 flyer to provide you with details on what items are allowed.
As this is now a private event, please bring proof of your address, whether via driver's license or utility bill.
Fall Festival and Trunk or Treat October 22, 2022
Please join us at Bridgewood Park (Vollmer Lane) from 4 pm to 8 pm for our Fall celebration.
There will be FREE food, music, games, activities, and demonstrations. Attendees can register to win some awesome prizes in our raffle. We will also have the Bexar County Sheriff's Office, the Helotes Fire Department, and various vendors.
Please join us and have a chance to meet your Board of Directors, mingle with your neighbors, and have some FUN!
We hope to see you there in your favorite costume!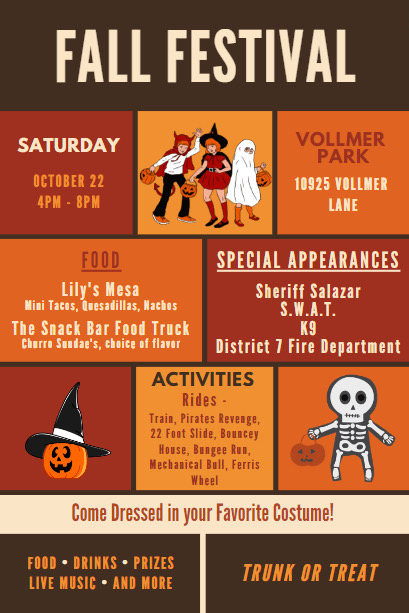 We look forward to seeing you here!!
Annual Easter Egg Hunt | Spring

Bridgewood's Easter Egg Hunt is a blast!

Community Day | Spring & FallThe return of Bridgewood's Community Day was a great success! Dozens of Bridgewood's residents were able to get rid of their bulk trash and we ended up a huge donation of food to the SA Food Pantry. The Metro Waste staff were excellent in the service provided.

Bridgewood Fall Festival | October

The Bridgewood Fall Festival (formerly known as National Night Out) is held at Vollmer Park each October.  Past Fall Festivals have been great successes, with over 800 residents coming out to enjoy free food and fun, and meet their neighbors and BOD.

Holiday Event | December

Children can visit with our VIP, Santa Claus, who will be our special guest so kids can sit on his lap and let him know their special wishes for Christmas. Don't forget your phone camera for free pictures with Santa!
In the spirit of giving, we encourage you to please consider donating a new toy to the Children's Shelter. Just bring it along with you to the celebration and all donations will be handed over with great love on behalf of Bridgewood.
(View the Calendar for Specific Dates, Times, and Locations)